Donors are behind some of the most ambitious and forward-thinking initiatives launched at McGill in 2022-23. Explore the areas they are choosing to invest in.
Containing 86 billion neurons, the brain is the most complex organ in the human body. Donor support is helping McGill researchers harness its power and uncover the treatment solutions hidden within.

By supporting innovative research that focuses on one brain cell at a time, the Ludmer Family Foundation is helping to advance our understanding of neurological and neurodegenerative conditions. The Foundation's exceptional $15.3-million gift established a research collaboration between McGill and three hospital partners known as the Ludmer Centre Single-Cell Genomics Brain Initiative.
Thanks to a $4-million anchor gift from the Hewitt Foundation, The Neuro kickstarted a new

Centre for Excellence in Epilepsy Research and Patient Care

. The goal of the Centre is to accelerate patient-oriented research on epilepsy, optimize patient care, and work to dispel the stigma around this often misunderstood neurological condition.
Brothers Gary, Darren, and Todd Swidler gave $2 million to create the John and Vickie Swidler Family Brain Cancer Research Lab, named after their parents. This gift has allowed the Brain Tumour Research Centre to purchase a cutting-edge single-cell sequencer. It will also be used to recruit an expert in genomic technologies and preclinical disease modelling.
Growing sustainable businesses
Knowing that environmental sustainability and economic growth must go hand in hand, donors are promoting a greater focus on sustainability in finance and entrepreneurship.

CIBC joined a key group of industry partners in funding the Sustainable Growth Initiative (SGI), a cross-faculty partnership anchored in the Desautels Faculty of Management that aims to develop practical, actionable solutions to build a more sustainable economy. The recent $1.25-million gift from CIBC will expand the SGI's ability to translate insights into action.
The

Weston Family Foundation

is supporting sustainability-driven entrepreneurship at McGill with a new program at the Dobson Centre for Entrepreneurship. Launched with a $1-million gift, the

Weston Family Entrepreneurial Innovation & Sustainability Program

will guide aspiring changemakers and early-stage startups through the ideation, validation, and launch of their ventures.
Digital dentistry and community care
Donors are standing behind the Faculty of Dental Medicine and Oral Health Sciences in support of its mission to make dental care more accessible and effective.

Thanks to a donation of $1.35 million from Green Shield, the Faculty of Dental Medicine and Oral Health Sciences is building a second free dental clinic at Welcome Hall Mission in Montreal. This new clinic will double the capacity of the existing Jim Lund Clinic and will help improve urgent access to dental care for underserved populations.
With a $1-million gift, dentalcorp is helping to drive innovation in digital dentistry in the Faculty. The donation will allow McGill to establish a dentalcorp Professorship, Fellowship and Support Fund in Digital Dentistry, as well as a Research Award in Business Practice Management.
Conversations on policy and economy
By promoting greater engagement with the public, donors are helping Canadians understand and address major policy challenges.

Thanks to an endowment of $5 million from Charles Bronfman, LLD'90, the McGill Institute for the Study of Canada launched a flagship event entitled "Conversations, sponsored by Charles Bronfman." This series of high-profile and broadly accessible discussions will tackle issues of global importance as well as the challenges and opportunities facing Canada.
A proud supporter of the Centre for Media, Technology and Democracy at the Max Bell School of Public Policy, The Walter and Duncan Gordon Foundation gave $1.2 million to support initiatives that will help Canada tackle urgent challenges related to online disinformation, sustainable technology, and economic transitions.
Thomas Kierans, BA'61, made a $1-million donation to establish a Major Annual Lecture on Economic Policy at the Max Bell School of Public Policy. Influential lecturers will be invited from Canada and other countries to present policy ideas that could strengthen Canada's economy.
RBC is helping Canadians take charge of their finances by providing $1.6 million in renewed funding for the McGill Personal Finance Essentials course.  This joint initiative with The Globe and Mail offers free, online education on budgeting, borrowing, real estate and more, taught by professors in the Desautels Faculty of Management.
Student support and experiential learning
Donors are establishing programs to help lower systemic barriers to higher education and provide much-needed financial support to students.

As a celebration of their family's unique relationship to McGill Law, Sam Hornstein, BA'78, MBA'80, BCL'83, LLB'84, and Merle Wertheimer, BA'77, BCL/LLB'81, gave $1 million to establish the Romek Hornstein Entrance Scholarship and the Merle Wertheimer and Sam Hornstein Entrance Scholarship. These new awards will provide lasting financial support for incoming law students.  
The School of Continuing Studies launched a unique experiential training and professional development program, thanks to a $2-million community investment from Scotiabank. This was the largest gift to the School in its history and will help members of underrepresented local communities and newcomers to Canada, including refugees, build the durable skills they need to pursue their career paths.
Gifts that make Montreal shine
McGill's connection to the city of Montreal is a central part of its identity. Donors are strengthening that bond by forging cross-institutional partnerships and safeguarding the city's cultural heritage.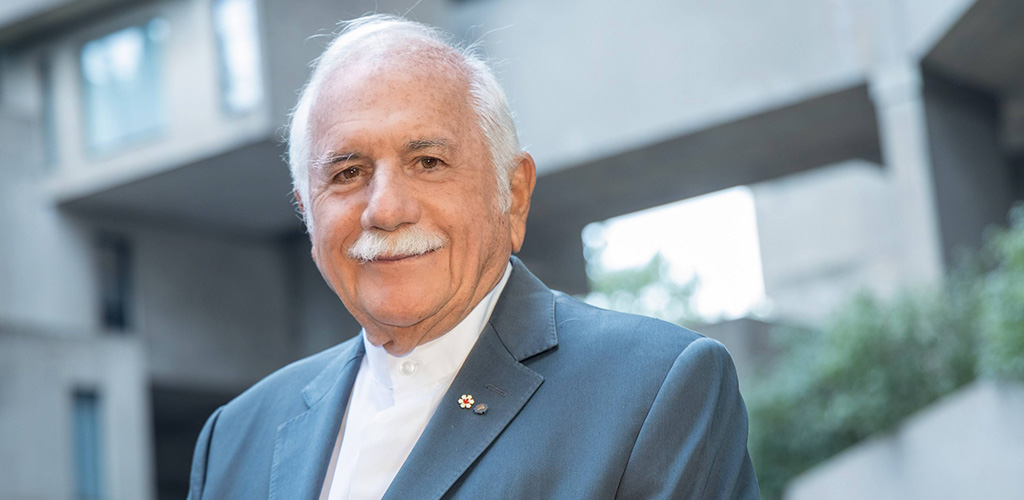 World-renowned architect Moshe Safdie, BArch'61, LLD'82, donated his professional archive to McGill and pledged his personal apartment at Habitat 67, allowing the University to preserve a lifetime of work and an iconic part of Montreal history. Safdie's extensive archive, comprising over 100,000 pieces, will be an invaluable resource for generations of students to come.
With a visionary gift of $26 million to the space institutes at McGill and Université de Montréal, the Trottier Family Foundation elevated Montreal as a global hub for space research. McGill's newly renamed Trottier Space Institute received $16 million, which will help to advance our knowledge of extrasolar planets, fast radio bursts, the dark universe, and other extraterrestrial mysteries.
The Azrieli Foundation has turned Montreal into an international destination for collaborative piano and vocal coaching. Launched with a joint $2-million gift, the McGill-UdeM Piano-Vocal Accompaniment Residency is an intensive, cross-institutional program that allows emerging artists to benefit from the expertise and resources at both McGill and Université de Montréal.
Next-gen leaders in engineering
With deeply personal gifts made in honour of their loved ones, these donor families are supporting future generations of engineers.

The late Ronald Chwang, BEng'72, DSc'12, was a pioneering entrepreneur who served on the Faculty of Engineering Advancement Board until 2021. To honour his legacy, the Chwang and Seto families established the Chwang-Seto Engineering Fund through a $2-million gift to create the Ronald Chwang Entrepreneurs-in-Residence positions at the McGill Engine Centre.
When the late Alfred Guenkel, PhD'73, passed away last year, the Guenkel family honoured his memory with a $1-million gift. The family established the Alfred Guenkel International Fellowship in Engineering to provide lasting support to young engineers and as an acknowledgement of the McGill fellowship that changed Alfred's life.
Innovations to improve human health
Donors are giving researchers the space and resources to rethink major health questions by supporting new institutes, training programs, and endowed chairs.

Established thanks to a remarkable $30-million gift from Sylvan Adams, the Sylvan Adams Sports Science Institute aims to improve elite human performance. The gift, which was the largest to a faculty of education in Canada, provides a new lens through which to conduct health research – one that focuses on learning from the study of optimal health, rather than disease.
With gifts totalling over $30 million, Victor and Mona Dahdaleh are building on McGill's long history of excellence in genomics and RNA by establishing the Victor Phillip Dahdaleh Institute of Genomic Medicine. This landmark donation will enable breakthrough research aimed at the development of cutting-edge diagnostic tools, targeted treatments, new pharmaceuticals and preventative vaccines.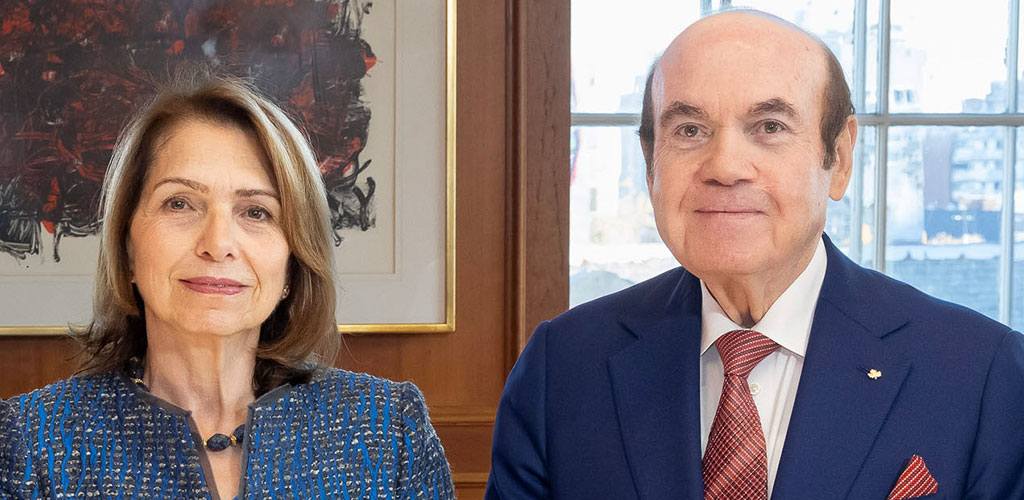 The Montreal Children's Hospital Foundation gave $1.2 million in renewed funding for the Hugh G. Hallward Chair in Pediatric Surgical Research, currently held by Dr. Sam J. Daniel, and over $1 million to DocTocToc, a mobile health and vaccination clinic for Montreal children.
With a $1-million gift, Nona Macdonald Heaslip is supporting surgical training and patient preparedness at the Steinberg Centre for Simulation and Interactive Learning. The Dr. Ronald Hugh Macdonald and Dr. Malcolm Hugh Macdonald Support Fund in Surgical Training Technology will allow the Centre to create innovative educational programs that will improve the effectiveness and safety of surgeons.
The Cedars Cancer Foundation contributed $1 million to help establish the Rossy-Cedars Chair in Precision Oncology. This Chair will allow McGill to recruit a world-class expert in precision oncology, an innovative approach to cancer treatment that provides targeted therapies based on each patient's molecular and genetic characteristics.
It is always sad to learn that McGill has lost a dear graduate, employee, or friend, but it is an honour and a privilege to bring their final philanthropic wishes to life. By making a legacy gift, such as a bequest in a will, these donors have left an indelible mark on McGill students and researchers.  

A $1.8-million bequest from the Estate of Peter George Holland has established the Peter Holland Fellowships. This initiative will provide annual funding for master's and doctoral students pursuing research in atmospheric and earth sciences, ecology, or environmental studies, with preference given to Canadian Indigenous students or students from developing nations.
The late Eleanor Anne MacLean, BSc'67, MLS'69, spent 40 years as the McGill librarian responsible for stewarding the Blacker Wood Natural History Collection. Now her $1.6-million bequest will support the Blacker Wood Collection in perpetuity by funding the restoration, preservation, and acquisition of materials.
With a bequest of $1.4 million, the Estate of Trina Vineberg Berenson, BSc(HEc)'52, is providing lasting support to both the Faculty of Agricultural and Environmental Sciences and The Neuro.
The Estate of Rosamond Virginia Leach, BA'46, made a $1-million bequest in unrestricted funding to the University.