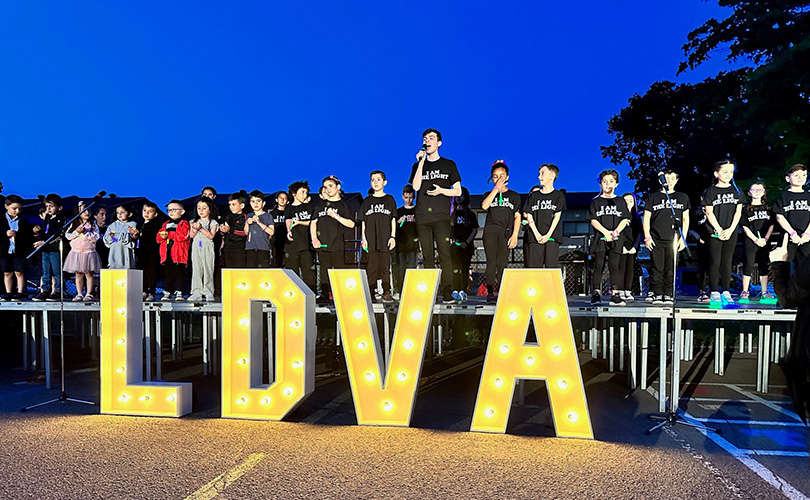 "A cause near and dear to our hearts"
Leonardo da Vinci Academy Lites up the Night for The Neuro to mark 10 years of fundraising for brain research 
"The brain is the main computer of the human body," says Nadia Sammarco, principal of the Leonardo da Vinci Academy (LDVA), an elementary school in Rivière-des-Prairies that has been fundraising for brain research for 10 years. "If the brain is not functioning well, then nothing else functions well. It touches on so many areas of health."
Fundraising for The Neuro has been a passion project for the LDVA community since it was first initiated by Sabrina Gavita, a Grade 6 French teacher whose father passed away from a brain tumour. Sabrina wanted to channel her grief into something positive by supporting brain research at The Neuro, where her father was treated. The fundraisers started out as small activities geared toward students. When Nadia became principal seven years ago, she and Sabrina teamed up to make fundraising for brain research an integral part of the school year, and the science curriculum. 
The school dedicates a week each spring to learning about the brain. Among other activities, student educators from BrainReach, a community outreach program managed by graduate students in the Integrated Program in Neuroscience at McGill, lead workshops for students on brain-related topics such as how the brain communicates information and the important role it plays in daily activities like learning, paying attention, and remembering. 
The LDVA's fundraising efforts for The Neuro have become a cause that the entire community rallies around, with local businesses, LDVA alumni, and others pitching in to make each year's event more successful than the last. One year, a team of students, staff and parents ran in the Scotiabank Challenge. Another year they hosted a student-run fashion show. Last year's colour run raised nearly $20,000.
"Every year we wonder, how can we top what we did?" says Nadia.
The cause has become even more meaningful to the community, she says, since a beloved LDVA teacher, Daniel Gaudette, was diagnosed with a brain tumour in December 2020. 
"Daniel's the light of our school, so when he got that diagnosis it hit really, really close to home," says Nadia. "The Neuro saved his life. The students see that he's fighting and he's getting well and it's because of all the research at The Neuro. It's extremely powerful for them to see and it's nice to share the success stories, not just the sad stories of those we've lost. It shows that, look, there's been advances and people have been saved because of research."
This year's event, Lite up the Night for The Neuro, raised more than $23,000 through a combination of online crowdfunding and an in-person event that "fused two passions: music and physical activity and wellbeing, both of which are essential for your brain and need your brain to be functioning well," says Nadia.
Held on June 2, the event featured musical performances by students – including a 55-student dance tribute choreographed to the music of Bruno Mars – followed by a family walk/run at sunset, lit by fairy lights and glow sticks. Participants also heard from a special guest speaker, Giulia Garofano, whose son Jason Di Tullio, a former CF Montreal soccer player and coach who had taught soccer skills to LDVA students, died of a brain tumour in 2022.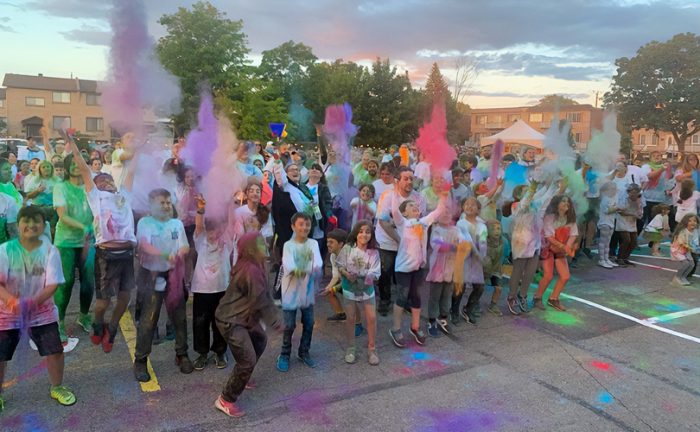 Like the LDVA community, many of those who fundraise for The Neuro have a personal connection to the cause. Grateful patients as well as friends and family members whose loved ones were cared for at The Neuro frequently host in-person events and crowdfunding projects that draw on the power of collective giving to help create a more hopeful future for others through brain research.
"What we really want for the kids is to show them that anyone, even a little person, can make a difference in a cause dear to your heart," says Nadia. "You just have to believe in it, you have to have a vision and then you plan and you do it. We all have a part to play and if we all come together, look at what we can do."