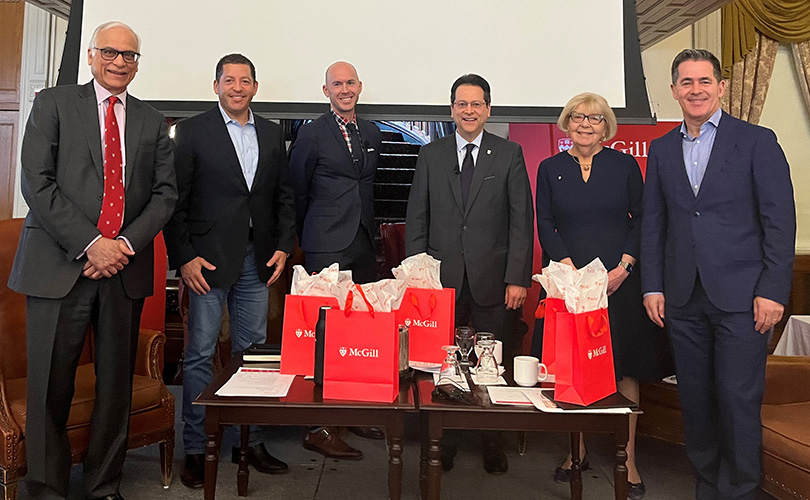 Introducing McGill's Strategic Giving Council
Meet the expert advisors who comprise McGill's newest volunteer group
What if every time you donated to a charity, you were confident that you were not only maximizing your impact on the organization, but also reaping the full benefits of your philanthropy?
That's the concept behind strategic giving – which aims to take a "big picture" approach to giving, and ensure that donors as well as their charities of choice make the most out of their gifts. 
"It's about giving in ways that best suit you, your loved ones, and the causes closest to you," says Susan Reid, director of McGill's Bequests and Planned Gifts office.
It's also the inspiration behind McGill's newest volunteer group: the Strategic Giving Council. Comprised of tax, insurance, estate and financial planning professionals, the Council's members aim to provide McGill's donors and staff with the most up-to-date information on giving strategically. 
Council members include Daniel Frajman, BCom'86, BCL/LLB'90, partner at Spiegel Sohmer; Jessie Jamar, BCL'80, LLB'81, counsel at Schlesinger Lazetera & Auchincloss LLP; Barry Pascal, BA'20, partner at Bell Pascal Insurance Services; Marilyn Piccinni-Roy, LLB'82, BCL'83, partner at Robinson Sheppard Shapiro LLP; and Jordan Waxman, BA'86, JD'91, BCL'92, co-founder and managing partner of Nucleus Advisors. Frajman, Pascal and Piccini-Roy are based in Canada; Jamar and Waxman are in the U.S., offering information to an American audience. 
"All our members are dedicated to enhancing the vitality and success of McGill," says Ram Panda, MEng'71, MBA'77, LLD'23, McGill's Lead Planned Giving Ambassador and Chair of the Council. "We really appreciate their time and their expertise."
The Council's members will be sharing technical information with the McGill community through articles, webinars and events. 
"My family feels a common connection to McGill," says Barry Pascal. "Participating in the Council seemed like a great way to support its traditions of excellence going forward."