An oasis of support for Indigenous students
First Peoples' House eases the adjustment to university life
It is a home-away-from-home for Indigenous students, a place where they can forge friendships, seek guidance, and feel welcome and included.
First Peoples' House is an oasis of support for First Nations, Inuit and Métis students, who often encounter loneliness when they first leave their close-knit communities to attend McGill.
"Adjusting to McGill and to student life can be difficult for Indigenous students," says Thomasina Phillips, MSW'16, Associate Director of Indigenous Student Success in the Office of Indigenous Initiatives. Phillips is from the Kanien'kehá:ka Nation at Kahnawake and was the Manager of First Peoples' House until recently.
"The goal of First Peoples' House is to ease students' integration and offer them a welcoming and inclusive space where they can find culturally appropriate support for the challenges they face and celebrate their successes among peers," she says. "First Peoples' House also promotes community-building among staff, faculty and students."
Located in a four-story brownstone building, steps from McGill's downtown campus, First Peoples' House has a relaxed and welcoming vibe. There are quiet work study areas and a comfortable lounge where students can take a break between classes, grab some food, mingle with their peers, or read a book. The House also serves as a residence for a small number of students.
In addition to these physical comforts, First Peoples' House gives Indigenous students access to an array of resources that are integral to their academic success and social life at McGill. These include academic supports like tutoring or assistance with library research, an Indigenous student advisor, cultural and social activities, and access to Elders and psychosocial supports.
Opened in 1997, First Peoples' House received a huge boost in 2005, when Academy Award-winning film producer Jake Eberts, BEng'62, teamed up with other family members to create The Eberts Family Endowment Fund aimed at attracting, supporting, and integrating Indigenous students at McGill. Although Jake Eberts passed away in 2012, members of his family have carried his legacy of generosity forward with additional support for the endowment fund he championed.
A portion of this fund provides an annual grant to First Peoples' House. Among the academic-related activities it supports are an Indigenous-focused orientation and welcoming events, workshops, subsidized tutoring, and networking opportunities to help with the transition to McGill. The fund also supports a special graduation ceremony each semester, where students receive a graduation stole designed by an artist from a local Indigenous community.
The Eberts Endowment subsidizes a broad range of cultural activities that vary from semester to semester, including beadwork groups and presentations by guest speakers and Indigenous knowledge holders on diverse topics like Indigenous medicines and weaving or carving.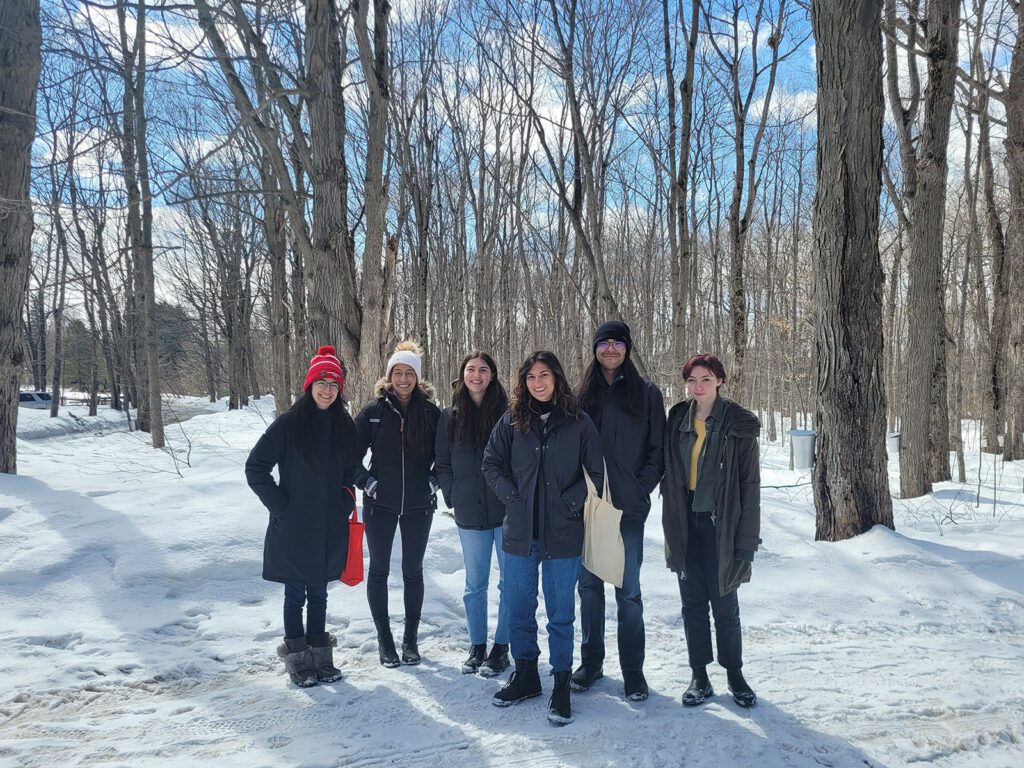 The Endowment also funds social activities, such as trips to the movies and seasonal activities like apple picking or an outing to a sugar shack. Most importantly, the fund covers community meals, including a weekly Soup and Bannock lunch and an end-of-semester feast. A cultural highlight is the annual Pow Wow, a celebration of Indigenous cultures and pride that is enjoyed by the entire McGill community.
Having worked as an Indigenous counsellor at McGill's Student Wellness Hub, Phillips values the role that First Peoples' House plays as a refuge for Indigenous students. "Thanks to the ongoing support we receive, First Peoples' House is able to set up Indigenous students for success on their academic journey."